On occasion, a surprise artist stands out amongst the records which arrive for review consideration. Kat Riggins is a blues singer whose Blues Revival had a tendency to beckon for an encore after the first few tracks were played, to reaffirm what was being heard. As most recordings today employ an array of studio musicians, rare is the working band where such a gifted vocalist as Riggins is paired with an expressive guitarist as Darrell Raines, who shines brightly on this production. Rounded out by drummer Doc Allison and George Caldwell on bass, this is an exceptional group that knows how to play the blues.

Kat Riggins, hails from Miami, and has steadily paid her dues, while building an audience around South Florida, even taking her music around the world. She released her first EP "Seoul Music," a compilation of blues covers, during a 2011 Asian tour; delved more into writing on "Lily Rose" released in 2014, and penned all but two on this current release.

They open the set with the up-tempo burner "Now I See (Ooh Wee)" Riggins defining her turf from the onset, augmented by a honking tenor sax courtesy of Stephen Lombardelli. The pace drops dramatically on "Good Girl Blues," allowing ample room to stretch her vocal character. Raines comes in nice and easy on this track, showing impeccable tone and technique. He returns with enthusiasm on the suave intro of "Wail Away," and displays flashes of brilliance in the solo. This song is the perfect vehicle for Raines, as it is about a woman digging on the guitarist at a steamy juke joint. The fascination with the blues scene continues on the autobiographical "Music Fiend."

"Queen Bee," is a hard driving shuffle, Riggins singing about who she is, and then reworks Etta James' "Blues Is My Business," with determined authority. The other cover is the perpetual Sam Cooke classic "Change Is Gonna Come," a song recognized as a singers song, for one has to have the pipes to interpret accurately. Riggins not only passes the test, but takes us to church and back along the way. The vocal and guitar interaction on "The Devil Is A Liar," is as good as it gets, the moans and wails spiraling into whirlpool of lamentation.

Halfway through the record is the strategically placed "Murphy's Law," a powerful southern fried chord attack where Riggins bares her soul, testifying about taking back her freedom, and picking up the pieces. This is where she slips it into that special sanctuary where only truthful singers need venture, genuine talent required, something Kat Riggins and Blues Revival has in spades.

Track Listing: Now I See You (Ooh Wee); Good Girl Blues; Wail Away; Queen bee; Murphy's Law; Music friend; Change Is Gonna Come; Blues Is MY Business; The Devil Is A Liar; Blues Is The New Black.
Personnel: Kat Riggins: vocals; Darrell Raines: guitars, keyboards, backing vocals; George Caldwell: bass; Doc Allison: drums; Stephen Hooper Lombardelli: sax (1).
Rock Doctor Music Reviews. 9/2016
Kat Riggins: Blues Revival
BLUES REVIVAL Kat Riggins (Bluzpik Media Group) *****
Kat has one of the best blues voices I've ever heard, in the same league as Etta James and Koko Taylor. This, her new album, is blues perfection.
"It's about the raw emotion in every note" Kat says about her singing. "If I can move someone to feel what I feel when I sing a song, then it's all worth it", and you feel it as soon as Blues Revival begins to play. Kat's powerful vocals are backed by a band that knows how to swing and get down; Darrell Rains on lead guitar is like BB King, George Caldwell takes that bass for a walk, and drummer Doc Allison is a groove master.
All but two of these ten tracks (Change Is Gonna Come, Blues Is My Business) are originals as Riggins and her guys combine traditional blues with elements of gospel and southern rock with occasional glimpses of hip-hop, and every single track is dripping with soul. One listen to Blues Revival and there can be no doubt that Ms. Riggins is the real deal- I wouldn't change a single note.
ESSENTIALS: Wail Away, Murphy's Law, Change Is Gonna Come
Kat debuted on the Living Blues Radio Chart #13

Personnel: Kat Riggins: vocals; Darrell Raines: guitars, keyboards, backing vocals; George Caldwell: bass; Doc Allison: drums; Stephen Hooper Lombardelli: sax (1).
Kat Riggins was born in Miami and was raised singing in the church and at local gatherings with her family, being exposed to a variety of music in the process. However, she was always drawn to the blues and it has always worked its way into whatever music she's performed during her career. Her current style is the blues mixes with influences from hip hop, pop, rock, and even country, and her latest release, Blues Revival (Bluzpik Media Group), blends many of these sounds together, but it's still the blues through and through.

The diminutive Ms. Riggins may be small in stature, but she's blessed with a powerhouse voice that will grab listeners. She's backed by the versatile guitarist Darrell Raines (who provides lead and rhythm guitar, plus keyboards) and a tight rhythm section (George Caldwell – bass, Doc Allison – drum) who put the "unk" in funk. She penned eight of the ten tunes, the lone covers being a masterful take on the Sam Cooke standard, "A Change Is Gonna Come," which Riggins opens with an acapella reading of the traditional "Let It Shine," and a tasty version of "Blues Is My Business," first done by Etta James.

Riggins' originals include the sizzling opener, "Now I See (Ooh Wee)," the moody "Good Girl Blues," which includes some of Raines' exemplary fretwork, which is also featured to great effect on "Wail Away," an ideal vehicle for both him and Riggins. "Queen Bee" is a sassy shuffle, and "Murphy's Law" is a strong and defiant soul-blues burner. "Music Fiend' is an autobiographical track with an irresistible funky backdrop, and the simmering "Devil Is A Liar" continues the funk at a slower tempo. The feverish gospel-styled closer, "Blues Is The New Black," proclaims that the blues are back in style.

Kat Riggins has big talent, both as a singer and a songwriter, and she gets fantastic support from Raines and the rhythm section on these tracks, and with any luck at all, Blues Revival may very well start one.

--- Graham Clarke
BLUZPIK MEDIA GROUP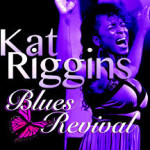 A lady singing the blues with a powerful and beautiful voice! Kat Riggs è un' ottima cantante afroamericana originaria della Florida con alle spalle una lunga carriera che l'ha portata a cantare in mezzo mondo, Europa compresa. In questo disco, molto bello, è supportata da una squisita band che ben si sposa con il suo repertorio fatto di blues classico con influenze rock e gospel e con la set list di questo riuscito album
in cui brani autografi e cover ben reinterpretate si alternano pregevolmente.
Ecrit par Fred Delforge
lundi, 29 août 2016


Blues revival
(Frank Roszak Promotions – 2016)
Durée 45'30 – 10 Titres

http://www.katriggins.com

Elle est née à Miami et a grandi dans une famille où l'on écoutait avec le même plaisir du blues, de la soul, de la country, du gospel ou du rock, de quoi se forger un style à la fois riche et varié que Kat Riggins met au mieux en valeur sur son nouvel album qu'elle a simplement intitulé « Blues Revival ». Darrell Raines aux guitares et aux claviers, George Caldwell à la basse et Doc Allison à la batterie complètent le groupe et c'est sans la moindre arrière-pensée que la chanteuse s'en vient nous proposer une dizaine de titres parmi lesquels on remarque deux reprises choisies avec un soin tout particulier pour le groove qu'elles apportent à l'ouvrage. N'hésitant pas à déborder du cadre et à partir à l'occasion se promener du côté du rock sudiste, du gospel ou encore du hip-hop, Kat Riggins parvient toutefois à ne pas trop se disperser et à nous offrir un ouvrage de fort belle facture, une de ces pièces d'orfèvrerie dans laquelle la voix est un pur régal mais où l'on apprécie également la qualité d'une section rythmique ajustée au quart de poil et l'ingéniosité d'une guitare qui dépose de part et d'autres de petites étincelles qui n'en finissent plus d'illuminer les morceaux. On remarquera bien entendu la superbe interprétation du « Change Is Gonna Come » de Sam Cooke et son intro a-capella et la non moins magnifique relecture du « Blues Is My Business » popularisé par Etta James, mais c'est également et avant toute autre chose au travers de ses propres morceaux que Kat Riggins parvient à nous interpeller, avec des titres bien ficelés et plein d'originalité comme « Now I See (Ooh Wee) », « Queen Bee », « Murphy's Law » ou encore « The Devil Is A Liar », autant de belles et brillantes compositions qui confirment que le « Blues Revival », en plus d'être un album, est une démarche qui est en train de véritablement prendre tournure grâce à des artistes comme Kat Riggins qui portent fièrement son flambeau auprès d'un public qui est demandeur de ce genre de choses. Une belle initiative !
GOLDMINE

August 25, 2016 | Mike Greenblatt

There's a "Blues Revival" goin' down and singer/songwriter Kat Riggins is leading the charge. She wants to "wake up the blues, one song at a time" and here she does it times 10 on eight originals, and covers of Sam Cooke's "Change Is Gonna Come" and the Etta James showstopper "Blues Is My Business (And Business Is Good)." Putting Southern Rock, gospel and that good old soul feeling in her particular brand of blues makes her more entertaining as well as profoundly listenable. Highlight has to be her audacious "Blues Is The New Black" but "Good Girl Blues" has her rebelling against what society expects from a proper young lady. Backed by a smokin' hot band of guitars, keyboard, bass, drums, there's volume aplenty, funk where you least expect it and overflowing sex

Bman's Blues Report
August 2016
I just received the newest release, Blues Revival, from Kat Riggins and she has pure soul. Opening with Now I See (Ooh Wee), a R&B number with a bit of a James Brown feel, Riggins balances nicely on vocals with Darrell Raines on keys and guitar, some really sweet bass lines from George Caldwell and Doc Allison on drums. Soulful, Good Girl Blues, has a swampy, lumbering feel with a sensitive bass line and expressive guitar riffs. Riggins' vocal pharsing is smooth and rich. Slow blues number, Wail Away, opens with a nice guitar intro by Raines and Riggins really opens up vocally encouraging Raines to lay it out. Very nice. Shuffle track, Queen Bee, is a solid blues with a cool, low key solo by Raines on guitar. R&B track, Murphy's Law has the hook and melody to be a pop or blues radio track. With it's walking bass line, Music Fiend, has a real nice pace. With just a touch of jazz, this track kicks a groove. After the traditional Let It Shine in simple verse, Riggins turns up the heat on Sam Cooke's classic Change Is Gonna Come. Riggins really digs in deep on this one and she hits it square. Raines chords on guitar are warm and Caldwell's bass work is really nice. With a casual melodic solo by Raines on guitar, this track is super. Funky blues number, Blues Is My Business, sets the floor on fire and Riggins keeps showing her versatility. With Santana like riffs, Raines scorches it. My favorite track on the release, The Devil Is A Liar, has a swampy feel with terrific vocals and floating guitar sounds over a solid bottom. Exceptional. Wrapping the release is a gospel style track, Blues Is the New Black, with a lot of spring and soul. A real uplifting closer for a solid new release.

KAT RIGGINS - BLUES REVIVAL
Artist: Kat Riggins
Record Label: Bluzpik Media Group
Style: Blues, Bluesrock, Funky Blues
Date: 08/04/2016
Reviewed by:
Walter Vanheuckelom
KAT RIGGINS - BLUES REVIVAL

http://katriggins.com/

https://www.facebook.com/bluesrevivalmovement/

Kat Riggins werd geboren als Katriva Tabitha Riggins in Miami, Florida op 7 februari 1980. Ze groeide op in een huishouden waar er altijd achtergrondmuziek te horen was. Vanwege de brede waaier van genres in de platencollectie van haar ouders, ontwikkelde Kat liefde voor alle genres van muziek, gaande van gospel en soul tot country en rock en alles wat zich daar tussenin bevond. Kat kan zich nog goed herinneren dat ze samen met haar moeder en zus meezong in de auto, en dan was dat op het ene moment Tracy Chapman en een minuut later Chuck Berry. Maar toen al, werd ze aangetrokken door de smokey gruizige klanken van artiesten als Bessie Smith, Sam Cooke, Nina Simone, Tina Turner, Denise LaSalle, Etta James, Ray Charles, Koko Taylor, Janis Joplin enz.. Ze groeide op met zingen in lokale programma's, kerk evenementen en familiefeesten met haar zus en neven. Op haar drieëntwintigste zong Kat, met de begeleiding van slechts een pianist op een jazz en blues optreden, in een kleine lounge in Sunny Isles Beach, Florida. Sindsdien zong ze in alle clubs en lounges van Zuid-Florida en New Orleans. In 2011 maakte Kat een Aziatische en Midden-Oosterse tournee met een top 40 coverband. Ze trad op voor volle zalen in Saigon, Bangkok, Beijing, Seoul, Abu Dhabi en Curacao. De laatste jaren was ze ook al een paar maal te gast in Europa, namelijk in België en Nederland. Wie Kat Riggins al aan het werk zag weet dat deze dame geboren is om op een podium te staan en om te entertainen en te zingen. Kat's eigen muzikale stijl is een mix van de blues met hip hop, pop, rock en zelfs country muziek. Haar doel is om de bluesmuziek te introduceren aan een mainstream publiek. Ze laat zich inspireren door jonge kunstenaars zoals Janelle Monae, Karreim Riggins, SyncOpera en ZZ Ward die delen in haar passie om muziek te doen herleven naar de hoogdagen van de vinyl periode. "Het gaat om de rauwe emotie in elke noot", zegt Kat. "Als ik één iemand in het publiek kan laten voelen wat ik voel als ik een lied zing, dan is het allemaal de moeite waard". Met haar eigen band, Blues Revival, reist Kat Riggins de wereld rond. Haar eerste EP 'Seoul Music', een complicatie van blues songs en eigen nummers, verscheen in 2008 tijdens haar tournee in Zuid Korea. In 2014 verscheen haar eerste full album 'Lily Rose', waarop de beste songs van haar EP stonden aangevuld met nieuwe nummers. Op 4 augustus van dit jaar verscheen de opvolger 'Blues Revival', toepasselijk genoemd naar haar band. Dit album geeft veel beter dan haar debuut album, de Kat Riggins weer die we kennen van haar wervelende live optredens. Blues is het sleutelwoord van de muziek die op het album te vinden is, maar er zit wel veel variatie in met bluesrock, gospel blues, funky blues en moderne traditionele blues. Het album bevat tien nummers, waarvan Kat Riggins er acht zelf schreef, de arrangementen komen van haar bandleden Darell Raines, George Caldwell en Doc Allison.. Het album werd opgenomen in de 42nd Street Studios en Kat is samen met Marc Loren producer van het album.


Vanaf de eerste noot op 'Blues Revival' trekt de pittige Kat Riggins al haar registers open in 'Now I See'. Deze mix van soul en blues heeft een opzwepend ritme en de power stem van Riggins geeft het nummer nog extra energie. Gastmuzikant Stephen Hooper Lombardelli blaast op zijn saxofoon een heerlijke solo en gitarist Darrell Raines is niet alleen op de gitaar schitterend aanwezig, want ook op de toetsen geeft Darell kleur aan de mooie en sterke opener. Daarna wordt het ritme vertraagd voor 'Good Girl Blues', een blues nummer met funky invloeden, waarin Darrell Raines opnieuw sterk en constant aanwezig is op de gitaar. Het is het eigentijdse verhaal van een jonge vrouw, die het moe is om steeds een voorbeeld te moeten zijn en zich eens volledig wil uitleven en laten gaan. Kat haar soulvolle stem klinkt echt geweldig in de slowblues ''Wail Away'. Darell Raines zorgt in de gevarieerde blues solo voor heerlijke splijtende en jammerende gitaar klanken. De stuwende ritme sectie met George Caldwell op bas en Doc Allison op drums rollen de rode loper uit voor hun frontvrouw Kat Riggins en gitarist/toetsenist Darell Raines in de blues shuffle 'Queen Bee'. Zowel Kat, als Darell laten deze kans niet voorbijgaan en tillen door hun klasse deze shuffle een paar niveau's omhoog. Dat Kat Riggins een sterke vrouw is horen we in haar verhaal tijdens de krachtige song 'Murphy's Law'. Darell Raines ondersteund de geweldige strot van zijn frontvrouw met een paar ijzersterke gitaar riffs.


Een nummer dat bijna op elk live optreden van Kat Riggins te horen is, is het wondermooie 'Change Is Gonna Come' van Sam Cooke. Ook hier op het album zingt de zangeres de song op een heel ingrijpende en emotionele wijze. Voor ze aan het eigenlijke nummer begint, zingt ze als intro de gospel 'This Little Light Of Mine'. Zonder twijfel een top versie van deze klassieker. Ook de tweede cover 'Blues Is My Business' van Etta James zet Kat vocaal helemaal naar haar hand. Raines geeft met een knappe verschroeiende solo nog een mooie surplus aan deze klassieker. In 'The Devil Is A Liar' is het Darell die met zijn gitaar de donkere en onheilspellende sound aan het nummer toevoegt. George Caldwell verstevigt de onheilspellende sound nog door zijn zware baslijnen en vocaal laat Katt Riggins nog maar eens horen over welke krachtige en volle stem ze beschikt. Met het uptempo blues nummer met funky inslag 'Blues Is The New Black' sluit de zangeres uit Miami haar tweede full album mooi af. 'Blues Revival' van Kat Riggins is een prachtig album geworden en geeft ook meer de kwaliteiten van de zangeres en haar band weer, dan 'Lily Rose'. Dit album opent hopelijk heel wat deuren voor Kat, want eigenlijk moet je deze dame live aan het werk zien en horen. Het is fenomenaal zoals zij zichzelf geeft op een podium. Ze kan het publiek bespelen, ze beweegt enorm goed en bovenal beschikt ze over een volle krachtige stem waar ze alle kanten mee uit kan. Top zangeres. (8/10)

https://www.youtube.com/watch?v=bMqF8FeIWFY

Walter Vanheuckelom



MIDWEST RECORD 8/2016

BLUZPIK
KAT RIGGINS/Blues Revival: A revival in the sense that she's writing almost all her own stuff and taking the sound back from all the white boys that have been gentrifying the sound. The spiritual grand daughter of Koko Taylor and southern blues show bands, Riggins has the stone cold knack for hitting it out of the park that would make all the southern blues greats before her quite proud. Not unreconstructed but not modern just for the sake of it, Riggins is high on the list of those we want to hear lots more from. Hot stuff throughout.
Kat Riggins review…August 4, 2016….

Posted August 4, 2016 by dvcrow56 in Uncategorized. Leave a Comment

KAT RIGGINS

BLUES REVIVAL

BLUZPIK MEDIA GROUP

NOW I SEE (OOH WEE)–GOOD GIRL BLUES–WAIL AWAY–QUEEN BEE–MURPHY'S LAW–MUSIC FRIEND–CHANGE IS GONNA COME–BLUES IS MY BUSINESS–THE DEVIL IS A LIAR–BLUES IS THE NEW BLACK

What's the best way to start a good, ol' fashioned blues revival? Well, for starters, your singer has to have a big, bold voice that grabs you at note one. Then, you need a killer backing band that knows blues, funk, R & B, and gospel from the inside out, and can make everything contemporary-sounding for today's audiences. That brings us to Kat Riggins, possessor of such a power-house voice. Old-schoolers like us heard the Etta and Tina influences, and the young-uns will be reminded of Shemekia Copeland or Demetria Taylor. Backing Kat is a very tight unit, featuring Darrell Raines doublin' down on guitars and keys, Geogre Caldwell on bass, Doc Allison on drums, and Stephen Lombardelli on sax. They've combined their talents to release "Blues Revival," eight originals and two covers that shows Kat's passion to win over new converts to the blues, one song at a time!

That voice hits you hard on the leadoff "Now I See (Ooh Wee)," a soul-blues shouter that has Kat giving a lover the boot after she finds out he was nothin' but a player. "Wail Away" is a sultry, sexy, just-a-little-bit-naughty bump-and-grind slow blues that details the guitar's place in the blues, while in "Queen Bee," Kat assumes her throne with her "golden nectar," but she's "got a mean sting–cross me and you won't do it again!"

Kat's got some serious gospel influences, too. Given the sad state of the world in which we live, Sam Cooke's "A Change Is Gonna Come" rings as true and as powerful as it did in the Sixties. And, the set closes on a pounding, Sunday-morning, shoutin' note, touting the fact that the blues are back in style—"The Blues Is The New Black!"

We had two favorites, too–one cover and one original. Kat channels her inner Etta for a mighty funky, chicken-scratch guitar-driven, call-and-response tale of hard times, "The Blues Is My Business, and business is good!" And, "Good Girl Blues" is a contemporary story of a young woman who was always rather straight-laced, but "tonight I'm gonna let my hair down, and party on these down-home blues!"

Kat Riggins wants everyone to feel what she feels whenever she sings the blues. With talent such as hers, that's an easy task, and she's sho' nuff headin' up a "Blues Revival!" Until next time…Sheryl and Don Crow.
Kat Riggins - Blues Revival

Met het album ' Blues Revival ' brengt de Amerikaanse uit Miami afkomstige zangeres haar tweede full-length album uit. Haar muziek is wellicht het best te omschrijven als intense soulblues. Van de tien nummers op het album zijn er acht geschreven door de zangeres zelf. Wat opvalt is de overtuiging waarmee Kat Riggins haar songs ten gehore brengt. Daarnaast is ' Blues Revival ' een album vol variatie.

Zo horen we de blues in vele facetten. Van bluesrock , funky blues tot traditionele blues en zelfs gospel blues.

Na beluistering van het album wordt het meer dan duidelijk dat de zangeres met ' Blues Revival ' de enige juiste titel voor haar album heeft gekozen. Kat Riggins zal de ware blues liefhebber zeker niet teleurstellen met haar uitstekende album.



Kat Riggins
Blues Revival


© Rootsville 2016


Van deze in Miami wonende spring-in-het-veld weten we al dat ze zich voor de volle 100% weet te geven op een optreden en steeds de tijd neemt om met al haar fans een woordje te wisselen. Al 2x kon ik deze furie aanschouwen en telkens weer was het een plezier om deze 'little lady' aan het werk te kunnen zien.

Begin vorig jaar trad ze hier in onze contreien een eerste maal op toen nog met haar album 'Lily Rose' in haar gezelschap. Dat album kon me destijds maar weinig bekoren omdat het mijn inziens te veel R&B getint was, en dan doelen we op de huidige vorm van deze muziek. In tegenstelling tot wat ze brengt op het podium want dat is één wervelende show met een mix van blues en Rhythm 'n Blues, ol' school.

Vandaag op 04 augustus heeft de release plaats van haar nieuwste album met als titel 'Blues Revival'. Die Blues Revival doelt uiteraard ook naar haar begeliedingsband 'The Blues Revival' maar natuurlijk en gelukkig ook naar de keuze van muziek.

Openen doen ze met 'Now I See (Ooh Wee)' en helaas is dit ook de enige keer dat we een blazer mogen verwelkomen en dat is Stephen Hooper Lombardelli op de sax. Dan volgen er enkele slowbluesjes zoals 'Good Girl Blues' en 'Wail Away', nummers waarop de blues naar voren komt maar waarop we toch naast de heerlijke solo's van gitarist Darrell Raines ook ten volle kunnen genieten van haar krachtige met soul doordrongen stembanden.

Van de 10 heerlijke nummers op dit album zijn er 8 geschreven door Kat zelf en daardoor moeten we ook haar talenten als een songwriter in herkennen. De twee covers waaraan deze Kat Riggens zich waagt op deze 'Blues Revival' zijn prim het wondermooie 'Change is Gonna Come' van Sam Cooke en wanneer ze dit 'live' brengt druipt de soul er zo vanaf.

Als tweede cover neemt ze Kevin Bowe zijn 'Blues is My Business' onder handen en ook dit nummer ondergaat onder de handen van deze Kat Riggins een ware metamorfose. Een nummer dat bij Etta James fans ook gekend is als 'Let's Roll'. Aflsuiter op dit prachtige album is 'Blues is The New Black' en dat kan je ook als een statement nemen...


tracks:

01 Now I See (Ooh Wee)
02 Good Girl Blues
03 Wail Away
04 Queen Bee
05 Murphy's law
06 Music Friend
07 Change is Gonna Come
08 Blues is My Business
09 Devil is A Liar
10 Blues is The New Black


more info:

year: 2016

artist: Kat Riggins

label: Bluzpik Media Group
musicians:
Kat Riggins: vocals
Darrell Raines: guitars, keyboards, backing vocals
George Caldwell: bass
Doc Allison: drums
Stephen Hooper Lombardelli: sax

Kat Riggins

Blues Revival

Bluzpik Media Group

Kat Riggins had been on the South Florida blues scene for some time as occasionally she could be seen sitting in during a jam. Her first album released in August of 2014 was "Lily Rose" on the Tate Music label.

Then on February 27th Riggins and her new band the Blues Revival opened the 2016 Fort Lauderdale Riverwalk Blues Festival. Since then we have been waiting for this album's release. The Blues Revival includes Riggins, lead vocals; Darrell Raines, lead and rhythm guitar, keyboards, and background vocals; George Caldwell, bass; and Doc Allison, drums.

Riggins has written eight of the ten songs included. All of the songs have been arranged by the band. She opens with "Now I See (Ooh Wee)". Her gospel influenced voice is both expressive and emotive. Stephen Hooper Lombardelli guests on sax and he takes a nice solo.

"Good Girl Blues" opens with Raines' guitar. The band is both soulful and funky. The song ends with our good girl being "bad" and makes you want to go out and have a good time. "Wail Away" and "Queen Bee" are good straight ahead blues grooves.

Riggins also includes two great covers. "Blues is My Business" was written by Kevin Bowe and Todd Cerney and recorded by Etta James on her 2004 Grammy Award winning Contemporary Blues Album "Let it Roll".

The gospel children's song "This Little Light of Mine" is performed as if Riggins has been singing it since she was a little girl. It morph's into her version of Sam Cooke's "A Change is Gonna Come" recorded by Cooke in December of 1964. These covers are fantastic versions.

The album closes with two more originals; "The Devil is a Liar" and "Blues is The New Black".

A change is going to come as this album should establish Riggins as a vocalist with a bright future and star potential.

Richard Ludmerer
Kat Riggins
How has the Blues, Jazz and Gospel music influenced your views of the world and the journeys you've taken?
How do you describe Kat Riggins sound and songbook? What characterize your music philosophy?
Which acquaintances have been the most important experiences? What was the best advice anyone ever gave you?
Are there any memories from studio session, festivals and shows which you'd like to share with us?
What do you miss most nowadays from the music of past? What are your hopes and fears for the future of?
If you could change one thing in the musical world and it would become a reality, what would that be?
What are the lines that connect the Blues with Jazz, Soul and continue to Gospel? What does the blues mean to you?
What is the impact of Blues and Jazz music and culture to the racial, political and socio-cultural implications?
What does to be a female artist in a "Man's World" as James Brown says? What is the status of women in Blues?
Let's take a trip with a time machine, so where and why would you really want to go for a whole day?